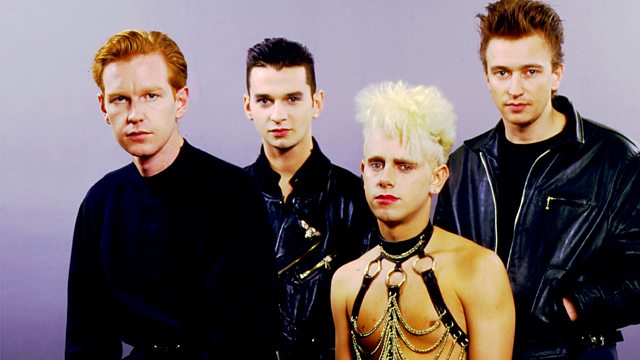 All I Ever Wanted
Depeche Mode seems like they ought to be the epitome of something, being one of the most popular and certainly the most long-lived of the British synth-pop groups that emerged in the early 1980s. They were stars in England almost from their first release in 1980, although they didn't break through in the U.S. until "People Are People" went to Number 13 in 1985. But "Just Can't Get Enough" – which, let's face it, is a much better song – had crashed the dance charts in 1981, off the band's first album, Speak & Spell.
The primary songwriter on Speak & Spell was Vince Clarke, who wrote nine of its 11 songs, including "Just Can't Get Enough," but he left the band after that first record came out. "

We basically just weren't getting on," Clarke said later. "We were really young, and we did quite well very quickly, and it all became too much.

" Starting with their second album, Martin Gore took over the songwriting, and he proved to be almost as good at it as Clarke. (Clarke, by the way, was born Vincent Martin, but changed his name because he was on the dole and would lose his benefits if the government knew he was making money via his band.)
Changing chief songwriters is as fraught a move as changing frontmen, and even moreso for a synth-pop group, where the material is pretty much the entire band. Pink Floyd changed primary songwriters and thrived, as did the Doobie Brothers, but it's pretty rare for a band to succeed that way.
Depeche Mode only got bigger with Gore as its composer, although I don't think they ever got better. The band's 1990 album Violator spawned three hit singles in the U.S., including "Enjoy the Silence," their only Top Ten hit, and "Personal Jesus," arguably their best post-Clarke song. They had Top Forty hits as late as 1997, and had a Number One hit on the U.S. dance charts as late as 2013 with "Heaven."
That should have made them some kind of grizzled legend in the electronic-dance music world, but they never quite seemed to attain that status. Daft Punk has saluted artists ranging from Philip Glass to the Eagles as influences, but never, to my knowledge, Depeche Mode. Depeche were never as good as other 1980s dance titans like New Order or Pet Shop Boys, even though they outlasted those groups as hitmakers.
Let's Play Master and Servant
Vince Clarke seems to be the sticking point here. It's hard for me to support a band that lost its key member after one album, and was never as good again.
After Clarke left Depeche Mode, he formed Yaz with Alison Moyet and released "Don't Go" and "Situation," both of which are better than anything in the Depeche catalog. Then he went on to form Erasure, which was a lot more fun than Depeche, especially with "A Little Respect." And none of those groups was the best British dance-pop group of the 1980s; New Order was.
Depeche Mode blazed trails in EDM, arguably laying the groundwork for a genre that continues to be vital today. "Personal Jesus" is 26 years old and still sounds pretty fresh. They even established themselves as a must-see live act, which you wouldn't expect from a synth-pop band.
I like Depeche Mode; honestly, I do. I just don't see what they've done to differentiate themselves from other bands of their ilk. New Order hasn't even ever been nominated, for pity's sake. I vote no on Depeche Mode.