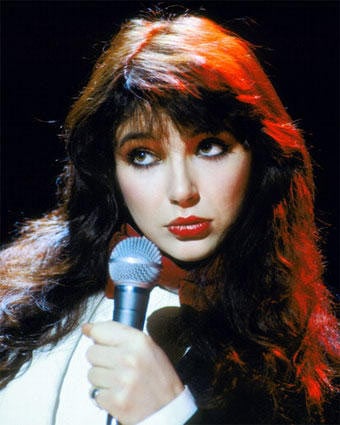 Running Up That Hill
Kate Bush is hugely respected by a lot of people I respect. Not only is her music sui generis, instantly identifiable as her own indefinable product, but from the beginning of her career, she was a one-woman gang, writing and producing (and playing piano on) her own material. She was the first woman ever to have a Number One hit in Britain with a song she wrote herself, with 1978's "Wuthering Heights," when she was just 19.
For a while it looked like she might be a star here in the U.S. of A., too. She was the musical guest on
Saturday Night Live
on December 9, 1978 (Eric Idle was the host), and though it took a while, she even had a Top Forty hit here, with "Running Up That Hill" in 1985.
But it wasn't to happen. Her second-highest charting single was the execrable "Don't Give Up," with Peter Gabriel. Kate Bush's impact on the U.S. record-buying public has been virtually nil.
That doesn't have to be a disqualifier, though. Leonard Cohen sold fewer records than Frankie Yankovic, but I still cheerfully voted for him, because of his influence on the larger music world and because his records are just so ridiculously good. I'm having a hard time seeing Kate Bush as qualifying on either accord.
I'd Make a Deal With God
I think her records are well-written but overproduced, and her voice is kind of silly. She skirts the line between dramatic and pretentious, and it can be really tough to stay on the right side of that boundary. (In the video for "Wuthering Heights," at one point, she looks like she's speed-skating in a formal gown.) You can see why some people worship her, but I'm never gonna be one of those people.
I don't mean to be negative about her work, which can be very striking, and which never sounds like anyone other than Kate Bush. That's a very good thing. And when she lands just right, her music is quite beautiful.
But I just don't see her having a huge enough impact on the world of rock & roll, or even of American pop music (I'm not qualified to comment on British pop) to extend her a vote. In the end, I think Kate Bush is an easier artist to admire than to listen to. I vote no on Kate Bush.